TBI Stories: Lending Redefined - how startups are solving India's credit crisis
By: Bharadwaj Rallabandi

As information and news become all pervasive, we struggle more than ever before to understand what stories are relevant and why. Simple questions take multiple articles, videos and conversations to answer, if one is lucky. Tech Buzz India Stories aim to help you find simple answers to important questions around this vibrant startup ecosystem of ours. In our inaugural story, Bharadwaj dives deep into the world of lending and tries to answer an important question - "Can startups crack the holy grail of SME lending?"
---
Credit is the lifeline of a burgeoning economy. Micro, Small, and Medium Enterprises (MSMEs) are the biggest employers in India, contributing to about 30% of GDP of the Indian economy. For India to achieve and exceed its growth targets, it is crucial to have a robust credit ecosystem for MSMEs. Borrowers need credit for working capital, equipment and business expansion. Despite the importance of MSMEs to the economy, there exists a huge credit gap of about $330 billion for this sector.
In May 2020, the Government of India launched the Emergency Credit Line Guarantee Scheme (ECLGS) which reserved 3 lakh crores (~$40 billion) to save MSMEs from distress during COVID by providing collateral free loans. The government expanded eligibility criteria for MSMEs upto 250 Cr turnover from 100 Cr turnover based on industry demand, as they employ a larger chunk of people compared to smaller enterprises. Unfortunately, owing to distribution, approval and disbursement challenges close to 35% of MSMEs had shut shop by June. 
In this article we explore how startups and Non-Banking Financial Companies (NBFCs) are trying to bridge this gap and expand the credit umbrella in India. 
The Lending Pyramid 
The lending pyramid can be classified on the basis of the lender's pedigree and capitalisation. The cheaper the rate of borrowing money (debt) for a NBFC, the lesser the interest rate at which its customers borrow and consequently the wider its target group. You can onboard the cream of the SME segment with lowest risk. If the cost of debt goes up, you end up charging a higher interest rate, in turn attracting businesses with poor credit history (also referred to as subprime lending).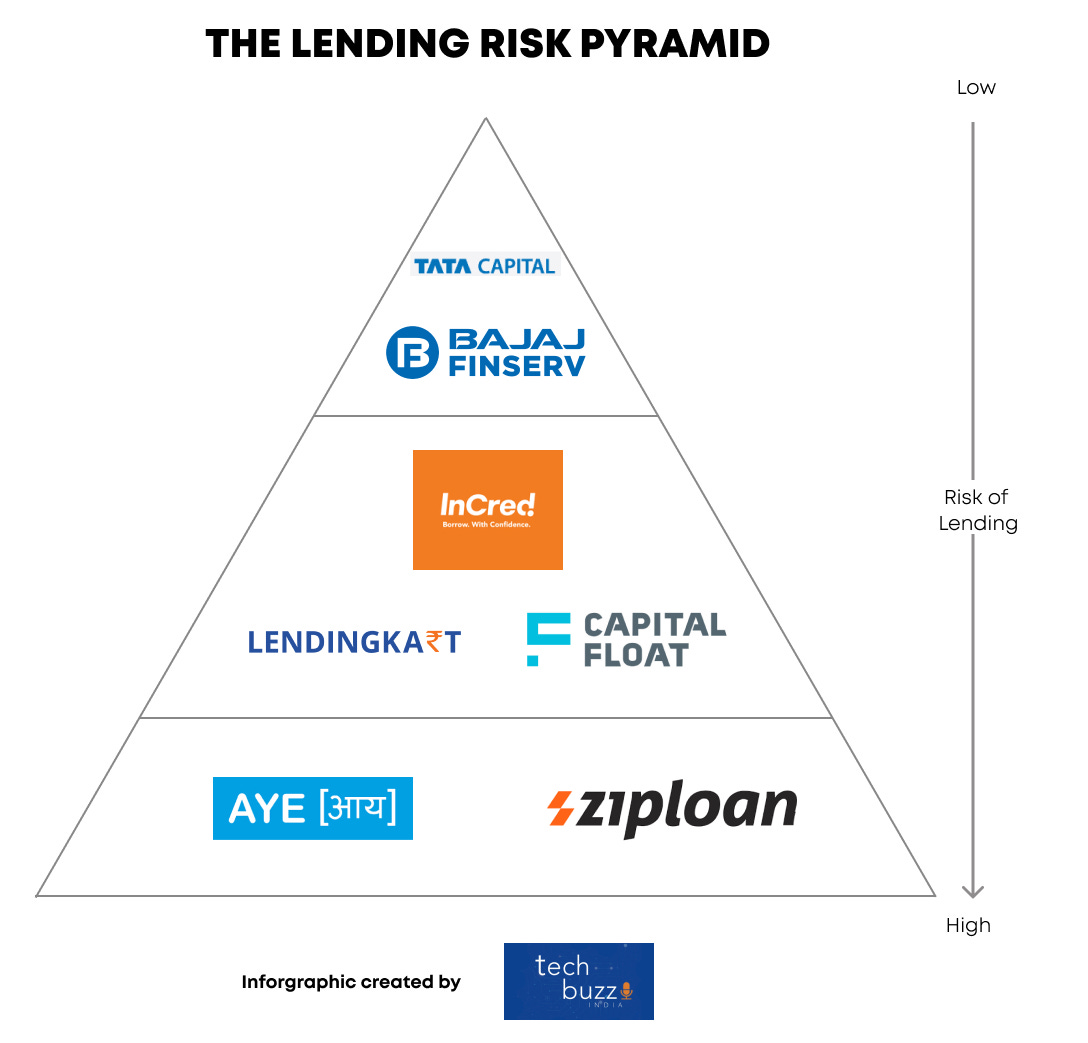 Bajaj Finserv, Tata Capital sit at the top of 'Risk Pyramid', taking the lowest risk. Their interest rates lie in the 12-20% range for various products. Startups such as Lendingkart, Capital Float sit in the middle by assuming medium risk. Their interest rates lie in the 15-27% range and average ticket size is between 5-10 lakh. They disburse term loans with amounts ranging from 50,000 to 50 lakh. The turnover range of SMEs lent to ranges from 1-5 crore. Smaller startups Zip Loan and Aye are at bottom of the pyramid in terms of income segments of borrowers, with the latter close to being a micro-finance lender. InCred lies in between Capital Float & Bajaj as it lends through a mixture of secured and unsecured loans. 
Colending - a means to an end
Fintechs are able to charge higher interest rates due to the convenience of digital loan applications for SMEs and their intent to underwrite riskier loans. Traditional players give secured loans, which are backed by assets (e.g. Muthoot Gold loans). Fintechs generally provide unsecured loans whose term ranges from 2-3 years (a prominent exception being Rupeek).
The Colending model is picking up pace where fintechs partner with banks and NBFCs. These partnerships take the form of a tripartite agreement where the borrower (customer) signs the final loan agreement with the bank or NBFC. For instance, Ziploan has partnered with IDFC Bank while Capital Float joined hands with Credit Saison to jointly underwrite their loans. In this arrangement, the fintech and bank share the interest earned (say 8% to fintech and 16% to the bank). Traditional players like banks depend on bank statements and salary accounts to underwrite credit which is not necessarily applicable for self-employed professionals. This leaves a void for fintechs to fill. NBFCs trust the startup and use their underwriting expertise and distribution to lend to players in the middle of the pyramid. They also set additional criteria on top of the underwriting model of the fintech. This model appeals to both the players for a few reasons. Fintechs have access to cheaper capital without having debt on its balance sheet yet they need to manage the risk and collections for the bank - ensuring they have skin in the game (important for the bank). This arrangement also helps banks as they may not be present in all locations, and can leverage the fintech's digital reach. The bank reduces its risk by choosing the borrower, instead of giving lump sum debt to a fintech.
Digital Credit Distribution
Traditional NBFCs use direct selling agents (DSAs) to source their loans. Fintechs adopt a hybrid approach for loan sourcing. It would be an equal mixture of finding customers through websites (digital means), partnerships, and DSAs. Even after digital customer acquisition, there exist some physical processes (e.g. KYC) required to complete a loan application. Recent measures from the government like video KYC have further digitised processing of loans.
In order to accelerate digital adoption and increase reach, both the government and private players are coming up with innovative solutions. Google Pay is looking to enter the space by offering a product dedicated to lending on top of payments. NBFCs utilise DSAs to distribute their products and average ticket sizes are higher than those of fintechs. They prefer larger ticket sizes to recover the cost of distribution. The Open Credit Enablement Network (OCEN) framework aspires to solve the distribution problem in lending. It makes credit access seamless by standardising loan applications, just as UPI has made payments seamless. It is a set of open APIs which allows credit to be available at point of requirement. In principle, this can allow any app to become a loan service provider when credit is required. 
Another important pillar of change is account aggregators. They are RBI licensed intermediaries that synthesise information from multiple sources such as savings and current accounts, investment accounts, government accounts along with other financial data in one place. They help reduce the cost of processing loans and related friction by providing verified account data on demand at one place. The DigiSahamati Foundation (Sahamati) - a collective of Account Aggregators aims to streamline this even further by creating an open standard. 
WhatsApp commerce is already prevalent among MSMEs. The amalgamation of OCEN and account aggregation can make WhatsApp lending a not too far away reality. A merchant can apply for credit on demand while paying his supplier on WhatsApp. These measures facilitate a shift from balance sheet based to cash flow based lending.
Advantage Fintechs 
Startups are well placed to serve this space better due to their underwriting models and distribution prowess. They include unconventional risk parameters in their underwriting models, allowing them to lend despite a low credit history of a MSME. They are able to disburse credit quicker and make it very convenient for a MSME to apply for a loan. Recent advances in e-KYC/Video KYC help accelerate the loan disbursement process. New age fintechs have access to data of newer MSME segments which gives them an edge compared to traditional players in serving these segments. 
We observe strong tailwinds that are helping to democratise lending with ticket sizes becoming smaller as more MSMEs start availing credit. The future of lending will see a shift from a balance sheet focused approach to a cash flow based one. We expect the low ticket size lending market to be dominated by startups in the next 2-3 years. They are poised for growth as it gets easier to avail credit and more businesses are in the credit umbrella. In the post-COVID world, need for credit is only going to increase because of cash strapped MSMEs and the market desperately needing more lenders. Startups are well positioned to capitalise on the bottom of the pyramid SMEs by leveraging their core competencies and digital distribution. 
About the Author
Bharadwaj is a second-year MBA student at IIM Kozhikode and an IIT Bombay alumnus. He interned with PE firm TRG during the summer of 2020. He trades futures and plays Pro-Chess. Find him on LinkedIn.
---
Write to us with your comments or feedback. If you enjoyed reading the story, please do share it with your friends and peers. And if you see yourself writing a similar story or have suggestions on what you'd like to read in a future edition of TBI Stories, do let us know.